Debt Relief & Bankruptcy serviceS to
renew your peace of mind
Bankruptcy Attorney Serving Dallas, Texas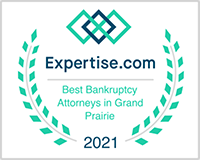 Personal
and
Professional
collaborative
At my law firm, you are part of the process from day one. Your story matters to me, which is why I'll coach you through any complex legal issues that may arise on your journey so that you can find a way forward.
achieving financial freedom through bankruptcy
Bankruptcy doesn't need to mean failure — for you or your business. If you choose to take the important step of filing for bankruptcy, it's important to understand the different types of bankruptcy so that you can achieve financial freedom that matches your unique needs. As a knowledgeable bankruptcy attorney in Dallas, Texas, I can meet with you to review your goals and outline a plan that can help you get back on track.
In Chapter 7 bankruptcy, most of your debts can be expunged using funds from your assets. If you are to the point where debt is stifling you from meeting the basic needs of life, Chapter 7 may be the right choice for you. For most people, all of their assets are exempt, which means they are protected from liquidation. Schedule a free consultation to see if filing for Chapter 7 bankruptcy is right for your situation. Your income and expenses are all factors in determining whether you qualify for debt forgiveness through Chapter 7.
Chapter 13 bankruptcy enables individuals to develop a plan to repay their debts. Think of it as a way of 'readjusting' debt to allow the debtor to make installments to creditors over a set period of time. Those who file for Chapter 13 often do so in order to save their vehicle, pay IRS taxes, back child support arrears, and more. Filing for this kind of bankruptcy means working with a bankruptcy attorney to craft an effective repayment plan.
I've been practicing bankruptcy law for more than three decades, helping countless clients from all walks of life lift the weight of never-ending bills and overwhelming debt off their backs. My firm — Hunt Law Firm — proudly serves the northern Texas area, including Dallas and Fort Worth. Achieve the financial freedom you know you deserve; seek knowledgeable guidance for your financial future by scheduling a free consultation today.
The most important step is reaching out. Schedule a free consultation with a skilled, trustworthy attorney. You don't have to go through this alone.
My goal is to get to know you. I strive to understand your circumstances and your goals so we can make the right plan for your finances and your future.
You'll complete a bankruptcy information packet. From there, I can begin filing your case and get you started on a path toward financial security.
working together for a fresh start
No one has the same bank account balance, medical bills, or credit score. No one's financial situation is quite like anyone else's. What we all do share is hope for better times ahead. That's why a dedicated bankruptcy service that works with you and works for you is so important.
At Hunt Law Firm, I provide you with a plan that best suits your needs and goals so that you can achieve the fresh start you've been hoping for. It's important to me to provide you with strategies to get you back to financial independence while keeping communication open between us.
Deciding to reach out to an attorney is a great first step. As we travel the road to financial recovery together, I will always keep in mind who you are and what you've been through — as no two clients are the same. Trust in skilled, reliable guidance to lead you through this process quickly & efficiently.
I understand this may be an uncertain time for you. My past legal experience defending both debtors and creditors reminds me of how overwhelming the financial world can be. Reach out today to a skilled Chapter 7 & Chapter 13 bankruptcy attorney in Dallas, Texas to work toward a fresh start.