The Difference Between Chapter 7 and Chapter 13
Sept. 18, 2023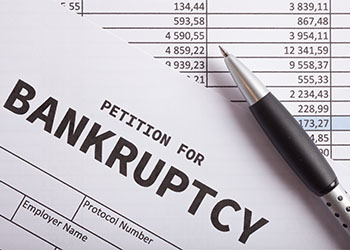 When overwhelmed with debts, it's natural to feel like the world is crashing down around you. It's always important to remember that you do have options.
In Texas, Chapter 7 and Chapter 13 are common types of bankruptcy for individuals, families, and business owners seeking debt relief. Understanding the difference between these chapters of bankruptcy is important in order to make intelligent decisions about your unique financial situation. Above all, you should know that filing for bankruptcy does not mean that you've failed—far from it.
Attorney Gwendolyn E. Hunt is proud to guide clients in bankruptcy-related matters. As a knowledgeable Texas bankruptcy attorney, Gwendolyn can educate you about the benefits and limitations of Chapter 7 and Chapter 13 and help you determine the ideal chapter for your situation. The firm serves clients across DeSoto, Dallas, Fort Worth, and the rest of Texas.
Chapter 7 Bankruptcy
Chapter 7—or "liquidation bankruptcy"—can help individuals and business owners wipe out most of their general unsecured debts and achieve a fresh financial start. Upon filing for Chapter 7, the Texas court will appoint a trustee to oversee your case.
The trustee will gather and sell all your non-exempt assets, such as your second homes, second cars, family heirlooms, vacation homes, bonds, bank accounts, stocks, cash, and other investments. The net proceeds from the sale will be used to settle some or all your creditors.
Keep in mind that you will still retain your exempt assets, such as your primary home, furniture pieces, primary motor vehicle, household appliances, and clothing.
Who Qualifies?
Qualifying for Chapter 7 in Texas requires passing the bankruptcy "means test." In addition, you must attend a credit counseling course before you file and a debtor education course after you file. The bankruptcy means test will assess your financial history, deduct payments and expenses, and determine your disposable income.
Essentially, you will automatically pass the bankruptcy means test if your income is lower than the median income for your household size in Texas. It's important to reach out to an experienced bankruptcy attorney for the most up-to-date and accurate median family income data for Texas.
When Is Chapter 7 a Good Option?
Chapter 7 may be a good option if:
Your income is less than the state's median family income.

You own little assets and you don't own expensive property.

Most of your debts are medical bills, credit card balances, and personal loans that can be discharged.

You have more debts than you can pay back.

You're concerned about—or already facing—a debt collection lawsuit or wage garnishment.

A Chapter 7 bankruptcy attorney can review your financial situation, guide you through the filing process, and help you achieve the deserved debt relief.
Chapter 13 Bankruptcy
In Texas, Chapter 13, or "wage earner's" bankruptcy, is designed to help individuals who earn a decent income but are overburdened with bills and debts achieve relief. In Chapter 13, you will propose a repayment plan—structured between 3 and 5 years—to the creditor to pay back some or all of your outstanding debts with your future earnings.
All your disposable income will be used to service your debts. Nonetheless, you will generally be able to keep most, or all, of your assets, including your home and vehicles, provided that you remain consistent with the repayment plan.
Who Qualifies?
In order to qualify for Chapter 13 bankruptcy in Texas:
You must be employed and have a regular source of income.

Your income must be more than the state's median family income.

You must have enough disposable income to cover the proposed monthly payments on your repayment plan.

Your tax filings must be up-to-date.
When Is Chapter 13 a Good Option?
While every case is unique, Chapter 13 may be a good option if:
You own several assets, and you want to keep them all.

You have a regular source of income.

Most of your debts are non-dischargeable tax, domestic support debts, or student loans.

You are able to repay your mortgage and car loans over the period of your repayment plan.

Reach out to a Chapter 13 bankruptcy attorney to assess your unique financial situation, help file your petition, and work out a feasible repayment plan with your creditor.
Getting the Legal Guidance You Need
Filing for bankruptcy in Texas can involve a lot of complex procedures and paperwork. The attorney at Hunt Law Firm is committed to guiding consumers through these procedures. Whether you're filing for Chapter 7 or Chapter 13, Attorney Gwendolyn E. Hunt can walk you through the legal process involved, represent you in bankruptcy court, and help you navigate crucial decisions.
Contact Hunt Law Firm to schedule a simple case assessment with a bankruptcy lawyer. Attorney Gwendolyn E. Hunt can offer you the reliable advocacy you need when filing your bankruptcy petition. The firm proudly serves clients across DeSoto, Dallas, and Fort Worth, Texas.