Preparing for Bankruptcy
May 8, 2023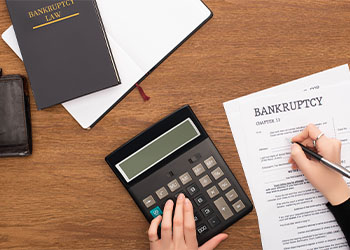 In Texas, individuals and businesses facing financial hardship may be eligible to seek debt relief or a clean financial slate by filing for bankruptcy. However, when considering bankruptcy, it is essential that you affirm your eligibility and prepare accordingly to avoid costly mistakes. An experienced Texas bankruptcy attorney can offer you the detailed legal guidance and advocacy you need to prepare for filing bankruptcy.
Attorney Gwendolyn E. Hunt is committed to advising and guiding clients through the complex procedures involved in bankruptcy. She's available to discuss your unique situation and fully explain everything you need to know about filing for bankruptcy and what to avoid before you file. The firm proudly serves clients across DeSoto, Fort Worth, and Dallas, Texas.
What to Do to Prepare for Filing Bankruptcy
After deciding to file for bankruptcy, you need to know the right steps to take before filing. Here are some of the things you need to do when preparing for bankruptcy:
Gather Your Financial Documents
Gather and document all required financial records, such as copies of your tax returns for the previous two years, proof of your income for the last six months, credit reports, bank statements, and information about pending court cases against you.
Pay Off Essential Bills
Also, keep paying your essential bills and living expenses, including your electricity bills and utilities, car payments, and home loan. If you're behind on your essential bills, you may face various issues upon filing your bankruptcy petition.
File Required Tax Returns
In addition, filing your tax returns is an important requirement for your bankruptcy petition to be approved. Moreover, filing for bankruptcy cannot eliminate your tax obligations, including past-due taxes. Hence, ensure that you file the required tax returns when preparing for bankruptcy.
Stop Automatic Payments
As a result of your financial hardship, you should consider terminating all automatic payments to your credit cards, bank account, and post-dated checks. With this, you can have sufficient money to pay for your primary needs and other essentials.
Document Debt Information Accurately
The bankruptcy process requires accuracy and honesty. You need to be honest and transparent with your assets, property, income, liabilities, and debts. Hence, ensure that you provide accurate information about your debts and other finances.
Take Your Credit Counseling Course
In addition, you need to take your credit counseling course before filing and your debtor education course after filing from an approved agency. You can take both courses online, and they can be completed within two hours. Failure to take these courses may cause the court to deny your bankruptcy petition or discharge.
All of these steps can help make your bankruptcy proceedings feel more manageable and improve your chances of a successful petition or discharge.
What Not to Do Prior to Filing
If you're thinking about filing for bankruptcy, here are certain things to avoid before you file:
Don't Use Protected Assets
In bankruptcy, you are allowed to keep your exempt assets, such as your primary vehicle, primary home, household furnishings, and clothing. These exempt assets are protected and won't be sold by the trustee in bankruptcy. Hence, do not use them.
Don't Pay Dischargeable Debts
Most unsecured debts, such as medical bills, credit card debts, and personal loans, will be discharged at the end of your bankruptcy case. Hence, you don't have to pay these dischargeable debts.
Don't Pay Debts With Retirement Funds
In addition, your retirement savings and assets are protected during bankruptcy. For this reason, do not withdraw money from retirement accounts to pay off your credit card debts. Essentially, you may be subject to penalties and taxes for early withdrawal from the retirement accounts. Also, you will have little money for your retirement years.
Don't Move or Transfer Assets and Funds
Also, avoid hiding, selling, or transferring funds and assets to family members, friends, or close relatives to keep away on your behalf before filing for bankruptcy. This is a violation of the bankruptcy code, and your discharge might be denied.
Don't Acquire New Debt
Do not take new debts within 70 to 90 days before you file your bankruptcy petition. If such debts are discharged, the creditor may file an "adversary proceeding." They will argue that you took out the loan without any intention of repaying it.
Don't Wait for Creditors to Win a Court Judgment
Finally, don't wait for the creditor to win a judgment before filing your bankruptcy case. Unfortunately, you may plunge into further debt if the creditor wins the lawsuit and the court issues a money judgment against you.
How Legal Counsel Can Help
Filing for bankruptcy in Texas usually involves several complicated processes and requires thoughtful consideration. Understanding what to do prior to filing, your available legal options, the eligibility requirements, and what to expect post-bankruptcy is crucial to navigating the entire bankruptcy process seamlessly. Therefore, consulting with a knowledgeable bankruptcy attorney is imperative for proper guidance and to help you make informed decisions when preparing for bankruptcy.
Attorney Gwendolyn E. Hunt has the diligence, experience, and resources to advise and guide consumers through the complexities of bankruptcy. As your legal counsel, she can examine your unique financial situation, enlighten you about your different bankruptcy options, and determine the right chapter for you. In addition, Attorney Gwendolyn E. Hunt can educate you about the steps to take or avoid before filing, help file your bankruptcy petition, and represent you during the court process.
Contact Hunt Law Firm today to schedule an initial consultation with a skilled bankruptcy lawyer. Attorney Gwendolyn E. Hunt can guide you through every phase of your bankruptcy proceedings and help you navigate crucial decisions. The firm proudly serves clients across DeSoto, Dallas, and Fort Worth, Texas.